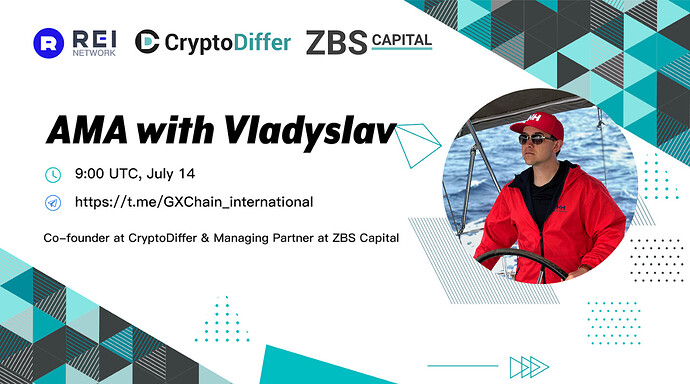 On July 14, Vladyslav Skakun, co-founder of CryptoDiffer was invited to the AMA held in the REI Network international community. He answered questions about CryptoDiffer, Super Nodes, and collaborations, and why they choose to join REI Network as a Consensus Node, and so on.
So many interesting questions from the community about CryptoDiffer's vision and the future of REI Network. Thank you so much for supporting our AMA. Now let us enjoy the recap!
Q 1: Vladyslav Skakun, thank you so much for joining this AMA, and congratulations on becoming a Super Node on REI Network. I hope through this AMA we can learn more about you and CryptoDiffer, Super Nodes, & Collaborations. Let's start with the introduction. Could you introduce yourself to our community?
Hello, everyone! My name is Vladyslav (Twitter| Linkedin), and I'm a co-founder at CryptoDiffer & Managing Partner at ZBS Capital. I got into the crypto space in late 2017 with an ICO boom and have already gone through several bear/bull cycles ;D
Q 2: We would like to know about Crytodiffer. What is the company all about?
CryptoDiffer is a major crypto-media, focused on blockchain startups, developments, and updates. The CryptoDiffer's story started in 2017 with an ICO boom and is continued nowadays. Every day our team provides our followers with the latest updates on prominent projects. Me, Maks & Alex have started the CryptoDiffer journey together and have built CryptoDiffer from scratch. Now the CryptoDiffer team consists of up to 20 professionals that are passionate about crypto.
Q 3: Why does CryptoDiffer choose to join REI Network as a Consensus NODE? In which aspects does REI Network attract you most?
I'm personally aware of REI Network since 2017, before the rebranding when it was GXChain. The most important factors for me are the delivery of promised things, non-stop building, and expansion the opportunities. Overall, REI Network shows a good long-term tracktion. We've decided to join REI Network as a Consensus node cause we are open to new opportunities and want to support the decentralization as much as we can.
For me, the attractive aspect of REI Network is its ambitious plans & goals and definitely — aims to build. REI Network will allocate hundreds of millions of dollars in eco-incentives for the development of new games and projects.I think REI Network has much space for growth. REI Network can achieve free, low-cost development, and rapid migration of applications, and can be shared and symbiotic with the EVM ecosystem, also supporting the development of Defi, GameFi, and NFT.
Q 4: Thanks for the answers! What's your idea about decentralization? Do you participate in any staking or network validation yourself?
Decentralization is probably a key principle of blockchain technology. And I'll definitely support the idea that some structures or systems must be decentralized but resistant to manipulations/frauds/and other negative factors that can take place. As a consensus node, CryptoDiffer aims to make a contribution to the decentralization of the REI Network ecosystem.
Personally, I participate in several staking initiatives. I can mention here Unicrypt $UNCX, Binance Coin $BNB, Ethereum $ETH, Gnosis $GNO and much more
As ZBS Capital, we have hundreds of investments in blockchain start-ups from different sectors. And we do stake tokens where it's possible and make economic sense
Q 5: What's your opinion on that Super Nodes can help create a better ecosystem? How will Cryptodiffer support REI Network and acquire more people to know REI Network ?
The CryptoDiffer mission is to support promising blockchain projects. We support decentralization, so by hosting REI Network's node we help to distribute the network. We would like to expand staking opportunities and found the REI Network node program attractive for us & for our community.
We will continue our support of REI Network with the CryptoDiffer resources and increase the awareness about REI Network. We are covering the major news & announcements of the REI Network ecosystem, creating educational content on how to delegate REI tokens to global nodes, etc.
Q 6: We want to learn more about CryptoDiffer. How would you describe CryptoDiffer now? What's your vision with CryptoDiffer? And could you please share Crypto Differ's upcoming plans with us?
As CryptoDiffer, we have already established several new departments:
ZBS Capital — an investment arm of CryptoDiffer. ZBS Capital is a VC fund, dedicated to building a decentralized world together. ZBS CAPITAL supports promising early-stage projects & companies with finance and advisory help.
ZBS Tech is a developers hub building the decentralized universe! ZBS labs consist of solid & passionate developers that are empowering blockchain space with different protocols, Dapps, various solutions & tools.
And more departments, not been publicly announced yet.
Also, we are currently working on the development of the new version of the CryptoDiffer website. Nowadays, there are more than 10,000 crypto projects in the space, DeFi, different consensus, staking/farming opportunities, and innovations appear every day. The general vision of the CryptoDiffer media, including all products it will consist of in the future, is to create a user-friendly space where people can explore crypto projects & related opportunities, check the most relevant news & analytics on the market in an easy manner.
But, because of the war with russia, the situation here, in Ukraine is pretty unpredictable. We can build our plans, but everything can be changed in a moment with a rocket strike. As a part of https://top7forukraine.fund , we are doing all we can for our victory and supporting the army.
Questions from Community:
Q 1: Can you tell us a little bit about CryptoDiffer? What is it aiming at, what is its purpose and view, what is the roadmap? What exactly does REI Network want to do with the company? In what area will he lead and demonstrate?
As I mentioned before, CryptoDiffer is a major crypto-media, focused on blockchain startups, developments, and updates. We aim to simplify for crypto users the information space just highlighting the most prominent projects, and their updates and providing some analytical stuff
We don't have an exact roadmap but have targets and milestones to achieve like non-stop developing of our analytical platform, expanding the markets, and developing more useful products
For REI Network we will set up a node and will participate in the validation process. Moreover, we will help REI Network with our connections and media support
Q 2: Hello Vladyslav. How did you get the community involved in developing the project? and how do you build a strong community to grow globally?
The community as a whole plays maybe one of the important roles. The project must rely on the community's feedback and follow the right direction.
It's really important to grow a true community of believers that support the project in many ways starting from general feedback, creative content creation, self-marketing, and ending with development stuff and participation in the network. I personally know people that were just active members of the community and became a part of the project's team
Q 3: Do you feel satisfied by seeing your progresses and achievements till now, when you look back to the day when CryptoDiffer have started?
Definitely — YES. Over the past years, we have already done a lot and continue developing & moving forward
More experience, more knowledge, more understanding of the market, and more connections if we are talking about personal growth. From a company perspective — we have already built a team of passionate crypto-enthusiasts) And we can easily move forward and explore new opportunities
Q 4: Too many projects promise magic but never release any working product or prove any revenue, Within a short/long time of release. Is your project also like this? If not can u tell us, What makes your project different from other projects?
CryptoDiffer is not a blockchain project, we are a media and a community. The point here is that we don't raise funds, have a token, etc.
The main idea of the CryptoDiffer is to create a user-friendly space where people can explore crypto projects & related opportunities, and check the most relevant news & analytics on the market in an easy manner.
In the future, you may see other products incubated by ZBS Capital/CryptoDiffer ;D But it's another story and you will see how our understanding of the market realize in practice)